#Adult #finder
Adult Nursing PgDip/ MSc (Top-up)
Adult nurses help care for people over 18 who are ill, injured, or have physical disabilities. They check patients' progress and decide with doctors what care to give, as well as advising and supporting patients and their relatives. Although, demanding and intense work, it can also be exceptionally rewarding.
This innovative two year course will prepare you for a career in a wide range of rewarding adult nursing opportunities across both general medical and surgical wards as well as specialist units such as Accident and Emergency or intensive care. Many of our graduates take their first posts as qualified practitioners in the NHS Trusts and hospitals in which they gained experience during their training.
Throughout the course you will have the opportunity to work with qualified practitioners both to gain experience of the differing clinical environments, and to appreciate the expertise of these specialist nurses whilst on placement.
Top-up to MSc
By adding the research element of a dissertation (an extended and independent piece of written research), you'll be able to graduate with a Masters-level qualification.
Accreditations
Case studies
Clare Turnbull, PgDip Adult Nursing
A PgDip in Adult Nursing at LSBU means that Clare will be a qualified nurse in just two years; and with varied placements backed up by applied learning in great facilities, she'll be ready for it.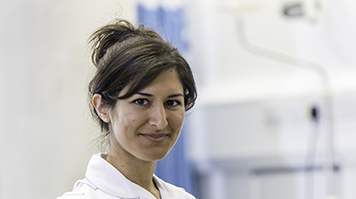 Preya Assip, PgDip Adult Nursing graduate, LSBU alumni, placement opportunities
Preya Assip decided to retrain as a nurse and so enrolled in the fast-track qualification PgDip Adult Nursing at LSBU.
Modules
You will be taught separately from the traditional three-year undergraduate students and will study the following:
Year 1
Improving quality, change management and leadership
This module will explore leadership, quality improvement and change within organisations from an inter-professional perspective. The module looks at a strategic, evidence-based approach to change management in a range of environments and will integrate the perspectives of service users, taking an inter-professional approach.
Biology and pharmacology for health

This module will provide an opportunity to study biological and pharmacological sciences and apply them to your chosen field of Adult Nursing. This module recognises that you ll have some prior knowledge through either previous degree studies or completion of a Life Sciences work book through the Accreditation of Prior Learning (APL process).
Person centred care

This module will introduce the knowledge and skills required to deliver nursing care in a variety of clinical settings. The module will enable you to understand and utilise person centred approach to care from an ethical, legal and professional perspective. In addition the module will introduce you to the use of critical thinking skills in nursing assessment and in the delivery of patient centred care.
Building practice skills for adult nursing

The purpose of this module is to develop practice skills and knowledge. You ll use safe, simulated environments, supervised placement experiences, and independent learning opportunities. The module will focus on the development and use of appropriate professional values with a strong emphasis on students becoming more analytical and reflective in their problem solving skills. Additionally you ll be challenged to work towards developing effective clinical and communication skills to support practical care giving. You ll attend three placements in their first year; each consisting of six weeks duration.
Practice experience year 1

The first 6-week practice learning opportunity aims to provide a sound basis in practice skills and working with adults/young people, their families and carers. Located with your Host Trust you re provided with a coach who will link with you for the whole of your course. Adult field students will then have a practice learning experience based in an adult care environment. In this setting you ll have 37.5 hours of practice learning per week for 6 weeks. The third practice learning opportunity of 6 weeks in the first year will be in a non-acute setting such a community or an out-patients area. There is then a fourth practice learning opportunity for 10 weeks. You ll receive Preparation for Practice prior to each practice learning opportunity and will meet with your personal tutor following each experience to reflect on your practice, review your practice learning and assessment portfolio and begin to plan your learning outcomes for the next practice experience.
Year 2
Care of the adult deteriorating patient
This module is designed to support pre-registration nursing students to acquire the knowledge and skills required for recognising and managing an adult patient who is deteriorating. It aims to facilitate you to undertake a range of clinical activities in a simulated environment to develop competency in caring for a patient who is deteriorating including recognition, assessment and management of patient. Student learning will be facilitated using an A to G approach.
Caring for the older adult

The module introduces the key issues in developing a critical understanding of the physiological, social and psychological processes of ageing and to establish a framework of skills as the platform for high quality practice. All thinking is underpinned by an ethic of working alongside older people and their associates, promoting health, independence and minimising disability.
Enhancing practice skills for adult nursing

The purpose of this module is to prepare you to enhance your assessment and decision making skills whilst effectively managing care that promotes quality, health, safety, service user and staff wellbeing. You ll be able to appraise your own learning and development needs as you approach the transition from student to registered practitioner.
Research in health and social care

This module will extend your knowledge of research theories, methodology and their applications.
Practice experience year 2

You ll continue to have scheduled Preparation for Practice prior to practice learning and your personal tutor will continue to meet with you on a one-to-one basis to support the integration of theory and practice. You ll undertake a 4-week virtual mother and new-born experience, which along with the experience in the community settings will allow you to meet the EU Directive (2008). You ll also undertake an 8-week placement in an acute area of adult nursing. The final practice learning opportunity is undertaken in your Host Trust with identified sign-off mentors.
Plus a dissertation (for the award of MSc only).